Our University Held the Opening Ceremony of the 17th "May 25th" College Students' "Beautiful Mind and Endeavoring in Shijiazhuang University"
Mental Health Education Activity Month
In order to implement the "1396" development strategy of our university, further strengthen the mental health education work of our college students, cultivate students' self-esteem and self-confidence, help them form rational and peaceful, positive and upward healthy mentality, on May 5th, our school held the opening ceremony of the 17th "May 25th" College Student Mental Health Education Activity Month of the "Beautiful Mind and Endeavoring in Shijiazhuang University", Vice President Feng Baoqiang attended it. More than 210 relevant departments heads, secretaries and deputy secretaries of the Party branch of each college, frontline full-time counselors, and 2022 student psychological committee members attended the meeting.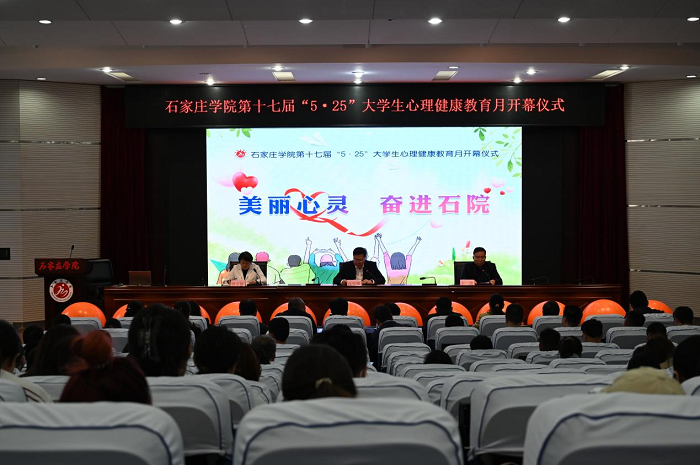 Feng Baoqiang proposed three requirements to all teachers and students: First, to clarify work tasks and continuously improve the quality of psychological education work. The focus should be on building a "four level" early warning and prevention system, constructing mental health courses, and conducting mental health education activities. Secondly, to innovate work models and activate the endogenous motivation of mental health education work. We need to innovate classroom teaching carriers, educational activity content, and educational activity carriers. Thirdly, to strengthen the effectiveness of education and enhance the pertinence and effectiveness of mental health education work. We must adhere to the fundamental task of cultivating virtue and talent, and combine solving psychological problems with solving practical problems. For students with financial difficulties, academic difficulties, and employment difficulties, classified guidance should be provided.
The Deputy Director of the Student Work Department (Office) announced The 17th" 5.25 "College Student Mental Health Education Month Activity Plan.
After the opening ceremony, the Ministry of Education invited Chen Hongzhen, a psychology professor at Hebei Normal University, to give a psychological lecture on Shaping a Sunny Mindset and Looking Forward to a Brilliant Life. Professor Chen Hongzhen interacted with teachers and students through specific typical cases, expounding methods and techniques concerning how to adjust stress, adjust psychological state, and be the master of emotions. He educates and guides students to become new era college students with ideals and beliefs, to be ambitious and diligent, to be positive and enterprising, and to be sunny and happy.
(Contributed by: Ministry of Education, Correspondent: Song Yu, Editor: Wen Jingjing)