In order to implement the "1396" development strategy of our university, do a good job in the scene construction of cultural Shijiazhuang University, and promote the school's aesthetic education to a new level, the opening ceremony of 2023 Art Practice Month of School of Music was held in the auditorium of School of Music on the afternoon of May 11th. Xu Yongzheng, deputy Secretary of the Party Committee, Ji Lihuai, Secretary of the Commission for Discipline Inspection, and Yao Zhenjun, vice president attended the opening ceremony. More than 300 people from relevant departments, the leading group of School of Music, all administrative staff, teachers from the Vocal Music Teaching and Research Section and student representatives attended the activity.
The opening ceremony began with a solemn national anthem. Xu Yongzheng, deputy Secretary of the Party Committee, announced the opening of 2023 Art Practice Month of School of Music. On behalf of the university Party Committee, Vice President Yao Zhenjun made a speech, and expressed warm congratulations to the opening of Art Practice Month activities of School of Music. He pointed out that the beauty of art allows us to have the spirit of seeking truth and being good, and noble culture is a strong driving force for the development of a school. He hopes that every teacher and student can come to the stage of art, spend their hot youth, sing artistic life, show their own style, play a beautiful campus movement, and make Art Practice Month truly become a festival for teachers and students. Li Lin, the dean of School of Music, announced the implementation plan of 2023 Art Practice Month, and read the congratulatory letters sent by Hebei Normal University, Xingtai University, Baoding University, Tangshan Normal University, Zhangjiakou University, Hengshui University and other colleges and universities in the province. After the opening ceremony, the first performance of the Art Practice month, "Teacher Shi Xiaoyuan 2023 graduates Concert" was launched.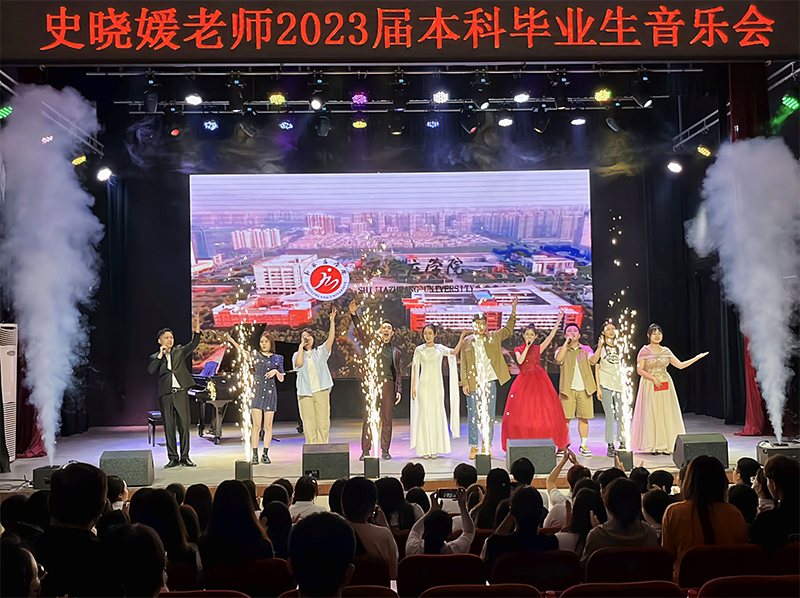 This art practice activity will last for one month, a total of 16 performances will be held, including vocal music teachers style, vocal music students concert, performance of vocal music teachers and students on the same stage, Chinese orchestra report performance, students concert with instrumental music, dance major graduation report performance, theme lecture by experts and professors, and exchange performance of domestic music schools.
(Contributor: School of Music; Correspondent: Wu Yanchao; Editor: Wen Jingjing)